Bone Dry NZ Instant Leather Waterproofing, Conditioner Product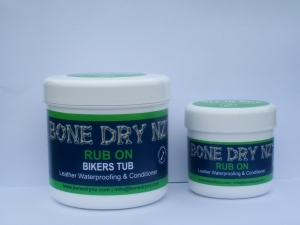 Bone Dry NZ leather waterproofing & conditioner comes in 400 gram tubs.

The 400gram Tub also known as the Bikers Tub, it has enough product to treat a full set of motorcycle leathers, pants, jackets, vests, gloves and boots.
The 400gram tub is also ideal for people who want to treat large amounts of leather like
saddlery.
You can purchase Bone Dry NZ one pot at a time or by the 6 pack.

What ever amount of leather you need to protect Bone Dry NZ can see you right.